VISION E MISSION
Tiber Pack has been active in the automated packaging sector since 1968.
Over the years, the Company has specialised in producing case packing machines for the food sector and general industry, supplying some of the most prestigious names on the Italian market and establishing a solid reputation through the design and development of new projects and realization of innovative solutions.
All the equipment are designed and produced in Tiber Pack's production plant, using the latest technologies and software solutions. Thanks to its internal production strategy, Tiber Pack maintains close control over every phase of the manufacturing process, guaranteeing the high quality of its products.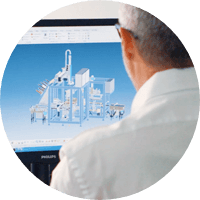 01. DESIGN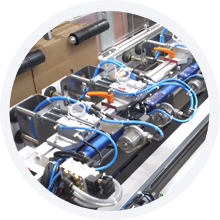 02. PRODUCTION
03. ASSISTANCE
Today, more than ever, Tiber Pack means research and development for customers
What distinguishes the Company is their commitment to take care of customer's products.
Indeed each machine is manufactured according to customers' specifications and designed to meet their production requirements, maximizing efficiency in terms of quantities and time, having high focus on the integrity of the product and the ease of transport and display.
OUR MISSION: TO BECOME A COMPANY OF EXCELLENCE IN THE AUTOMATION & PACKAGING SECTOR